Dear Customers and Business Partners,
Van den Bosch's new cleaning facility in Africa became fully operational on 1 November 2023. The new tank cleaning station will enable the logistics service provider to set up new transport flows from Africa to the rest of the world.
The cleaning station was opened in Abidjan, the biggest city in Ivory Coast, and was built in full compliance with strict European quality standards. It also meets all the food, kosher, and halal cleaning requirements. This is Van den Bosch's second cleaning station in Africa, following the first one which opened in Ghana in 2016. "With this new facility, we are meeting the high demand in Africa for transporting products in bulk", says Bart van de Vorst, Managing Director of Van den Bosch DMCC. "Moreover, it reinforces our innovative character, as we are now able to clean locally and thus operate more sustainably."
Quality standards
"The cleaning station quality standards enable us to focus on sustainability, bulk solutions, and the further development of import and export flows. Until now, it wasn't always possible to unload and then immediately reload, due to the lack of professional cleaning possibilities in West Africa. The new cleaning operation will help to balance incoming and outgoing transport flows, and will mean less empty running," says Van de Vorst.
Valued partnership
Van den Bosch is working with Lynx Logistics for the new tank cleaning operation, a local partner with extensive experience in forwarding and customs clearance for the mining industry. Ivorian Marc Moukarzel, Director of Lynx Logistics: "The cooperation with Van den Bosch gives us the opportunity to increase our presence in the container industry. We appreciate the keen commitment of Van den Bosch to this partnership, to which both parties are contributing experience and flexibility. I look forward to developing our cooperation further in the future."
Deep-sea activities
Van den Bosch DMCC manages its deep-sea activities from its Dubai office. It is now one of the biggest tank operators for the food industry in the world. The focus is on the African market, with an emphasis on shipping liquid foodstuffs (such as olive and sunflower oil, ethanol and glucose) in ISO tank containers. Van de Vorst: "With this investment, we are meeting the needs of our customers and the manufacturers in Africa. In this way, we are working on increasing sustainability and connecting Africa with the rest of the world, while continuing to build on our position as The Supply Changer in Bulk."
Van den Bosch opens new cleaning station in West Africa – Van den Bosch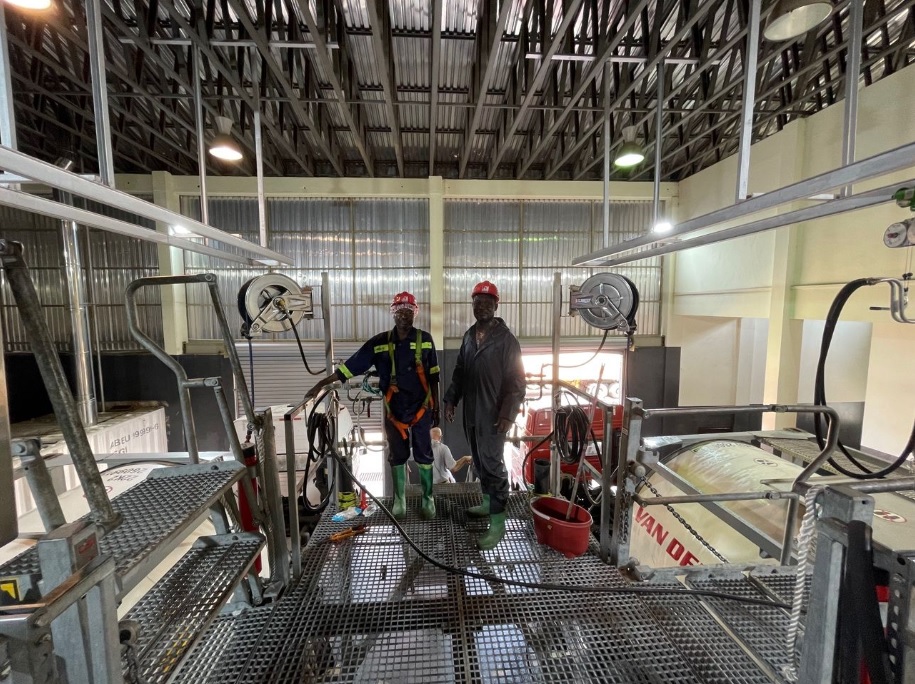 ---